VISO project participates in "NordestNight – The Researchers' Night"
25/09/2013 10:55
On 27th September 2013 also VISO, the Interreg project, is involved in "NordestNight – The Researchers' Night ", an initiative promoted by the European Commission with the common aim to bring together the world of research with the general public.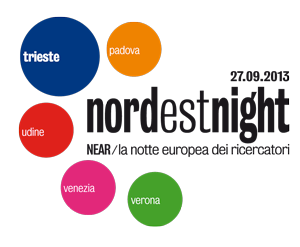 Since 2005, the Researchers' Night has been lighting up the fourth Friday of September of a large number of European cities, selected on the basis of specific research projects presented by their universities or research centers. The event will be opened at 5 pm and it will be addressed to all age groups and types of audiences: citizens will have the opportunity to visit research facilities, to use the latest technology with the guidance of scientists, to participate in experiments, demonstrations and simulations, to exchange ideas and to party with the researchers. All the activities offered and animated by the researchers, will be free. The meetings, held at of the University of Udine headquarters, in the formerly Blanchini historic building in via Magreth, will focus on various topics ranging from the role that science has on recording the results of sporting performances, virtual reality and science that is applied in cooking. There will be a large covered space set up on the forecourt of the building and different thematic routes will be marked within the building. One of the stands will be dedicated to the 9 Interreg Italy -Slovenia projects which refer to the Department of Biological and Medical Sciences (DSMB), the Department of Agricultural and Environmental Sciences (DISA – VISO project partner) and to the department of Food Science (DIAL) of the University of Udine. 
The Interreg projects are part of the Cross-border Cooperation Italy - Slovenia 2007-2013 Program, financed by European funds for territorial cooperation (www.ita-slo.eu).This program is an excellent opportunity for the University to combine its four missions -namely research, teaching, technology transfer and internationalization. The researchers, involved in Interreg projects, have the opportunity to interact with the institutions and companies in the cross-border territory in order to "Strengthen the attractiveness and competitiveness of the Programme": they can establish new scientific collaborations, increase and/or acquire new skills and transfer their technical and scientific knowledge to companies and/or institutions concerned. Although individual projects address quite different topics at first sight - from health to biodiversity, from aquaculture to medical plants, the problems faced are common and basically reduced to human environment, from which each human activity matters and that in the final analysis has an impact on health. In particular, the impact of the project activities affect the well being of the person,especially considering the continued aging of the population. This objective is pursued by pointing to the rational use of natural resources, the production of quality food, the implementation of sustainable tourism, the spread of healthy lifestyles in harmony with the environment. 
For download:

The DISA's poster

(430.0 KB)

The program of the event

(697.5 KB)

The Interreg Projects' Poster

(1.4 MB)

The VISO's poster

(1.5 MB)
Link to official website