Meeting and presentation of sensorial analysis of the wines micro-vinified in the year 2013.
14/03/2014 10:39
On Tuesday, March 18th, 2014 at 16:00 at the Department of Food Science, University of Udine, via Sondrio 2 / a, 33100 Udine, Italy sensorial analysis will be performed and thus tasted the wines micro- vinified in the year 2013.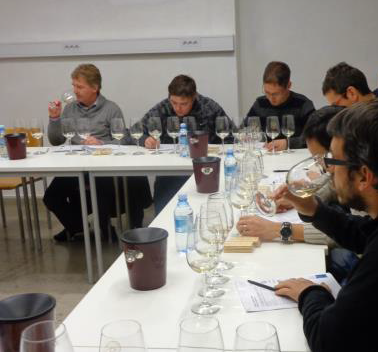 The three-year project VISO, which has as its objective to strengthen the competitiveness of the wine and the attractiveness of rural tourism by promoting a model of sustainable viticulture, among the many activities also includes the experimental tests carried out in the fields where grapevine varieties resistant to fungal diseases and pests are produced by using innovative techniques and bioinformatics analyzes .
During the 2013 three tests of defoliation were performed, two in Friuli Venezia Giulia, in Oslavia and in Pavia di Udine, and one in Slovenia in Pristavo. In the Italian vineyard in Pavia di Udine the effect of defoliation in pre-flowering and post-flowering period on the production and quality of Merlot grapes, particularly in the sugar and the content of polyphenolic substances was evaluated.
In the course of the season the main parameters of production were collected, the evolution of ripening was followed and at the harvest the grapes were vinified separately in order to examine the differences with a panel of expert tasters.
Sensorail analysis will be presented and conducted by Jose Carlos Herrera, a researcher at the University of Udine in collaboration with prof. Paolo Sivilotti, University of Nova Gorica, both VISO project partners.
You can download: 

Invitation 18032014

(189.3 KB)

Press release 11032014

(244.2 KB)

Presentation prof. Sivilotti

(1.1 MB)

Presentation researcher Herrera

(1.6 MB)